Page Menu
Covid Detect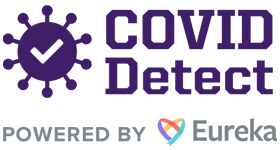 Understanding how COVID-19 tests work at different stages of infection.
Brought to you by the National Institutes of Health Rapid Acceleration of Diagnostics (RADxSM) initiative.
What was the COVID Detect study about?
We aimed to better understand:

How well different tests work to detect COVID-19 in both early and late stages of infection.
How COVID-19 symptoms and the potential for transmission can differ between people and over time.

Study design:

Participants received a kit to collect their own samples every day for two weeks.
A trained observer guided collection of the samples remotely by video or FaceTime.
Sample collectors picked up the samples from participants.
What did we learn from the COVID Detect study?
COVID-19 screening programs can boost the accuracy of rapid antigen tests by using a serial testing schedule
In this study, screening for COVID-19 every three days with a rapid antigen test detected infected individuals as well as a lab-based PCR test.
PCR tests are more effective than antigen tests at identifying COVID-19 infections in the very early stages of infection.
We collected and stored samples that may be used for future research about COVID-19 and related viruses.
Read more about these findings in the following publication:

Smith RL, Gibson, LL, Martinez PP, et al. Longitudinal assessment of diagnostic test performance over the course of acute SARS-CoV-2 infection. The Journal of Infectious Diseases, Volume 224, Issue 6, 15 September 2021, Pages 976–982, https://academic.oup.com/jid/article/224/6/976/6311835.