Page Menu
Test Us At Home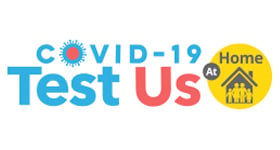 Understanding serial testing for COVID-19 in the home environment
Brought to you by the National Institutes of Health Rapid Acceleration of Diagnostics (RADxSM) initiative.
What was the Test Us At Home study about?
We compared the performance of over-the-counter COVID-19 tests to standard, lab-based tests when used on serial testing schedules.


Study design:

Participants were located across the mainland United States. The study could be completed right from the participants' homes – all study materials were mailed to the participants, and they used a mobile app to answer questions, report test results and symptoms, and get directions on when to test.
Participants tested themselves at home using two types of COVID-19 tests: 1) a mail-in, lab-based test and 2) a rapid, over-the-counter test. They used the tests several times over the course of 10 to 15 days.
What did we learn from the Test Us At Home study?
Our team recently finished collecting data for this study in early 2022. We'll update this section once we finalize our analysis.